It was axiomatic long before Donald Trump became president that anyone who falls into his orbit is cheapened by the experience.  And now it is General John Kelly's turn. 
By all accounts an exemplary career Marine, Kelly's final act of service to his country — trying to bring order to the dysfunctional West Wing of a White House run by a man as deeply unqualified to be commander in chief — will now be best remembered by him succumbing to and then participating in the willful ignorance, lies and race baiting that characterize this awful passage in the history of a beleaguered country. 
"If you're not in the family, if you've never worn the uniform, if you've never been in combat, you can't imagine how to make that call," declared Kelly in suggesting that it was unpatriotic to criticize Trump while overlooking a few inconvenient truths.  These include that Trump failed to acknowledge for 12 days the deaths of Sergeant La David T. Johnson, 25, and three other Special Forces soldiers in an ambush on October 4 in Niger, only called pregnant widow Myeshia Johnson after being pressured to do so, then couldn't remember the fallen soldier's name while lecturing the widow that her husband "knew what he signed up for." 
It is a trademark of Trump's presidency that he turns the merest criticism into a pity party. 
And then when the blame falls on him, he lashes out, not caring what the collateral damage may be, which in this instance includes the memory of Kelly's own son, 1st Lieutenant Robert Michael Kelly, 29, who died in Afghanistan in November 2010 when he stepped on a bomb while leading a Marine platoon.  Kelly had never sought to publicize the death and tried to discourage news coverage suggesting his son's passing was any more tragic than other American battlefield loses.  
We are all tarnished every day that Trump lives to tweet yet again, but it is Kelly — whom Trump so brazenly used for his own selfish purposes as he has repeatedly during a long and sordid life as corrupt businessman, pretend friend and unfaithful husband — who is especially diminished by his latest assault on common decency. 
But this time it is much worse.   
This is because Americans always have been able to put aside their differences and prejudices when it comes to mourning and honoring our sons and daughters at arms when they fall defending the freedoms Trump would take away.  He has sought not to honor, but to exploit and disparage. 
With Trump's latest self-inflicted crisis now entering its second very messy week and the administration predictably doubling down, two things are certain: 
The circumstances of the ambush that took the life of Johnson and his comrades will be investigated, not at Benghazi-type length, of course, but in a thoroughgoing and very public manner that otherwise would never have occurred.  As it is, the official Pentagon account differs sharply with those on the ground.  And the circumstances that led Kelly to grovel at his master's feet at a press conference where he deeply embarrassed himself by falsely attacking Democratic Congresswoman Frederica Wilson of South Florida as selfish and politically motivated will come out. It will involve the usual ham-handed coercion, and may hasten the inevitable end of Kelly's brief and unhappy White House tenure.     
Then there are the bleatings of White House press secretary Sarah Huckabee Sanders, from whose mouth falsehoods tumble like so many goat turds as she disparaged Wilson for being "all hat and no cattle," a reference to Wilson's colorful hats, and asserted that no one should dare question a four-star general like Kelly.   
Trump, of course, has turned his malignant narcissism on no less than three such generals, castigating Colin Powell, John R. Allen and Martin Dempsey for what he characterized as their abject failures as commanders, as well as a bevy of lesser uniformed luminaries who also did not spend the Vietnam war polishing their golf game as did he.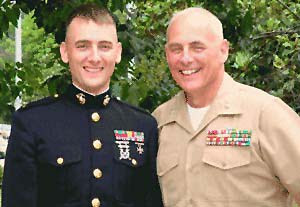 The White House could have gotten out ahead of the inevitable questions about the October 4 ambush, but did not rouse itself to do so except for a fleeting comment from Sanders on October 6 that "We're continuing to review and look into this."  And so a somber duty became yet another Trumpian opéra bouffe. 
However, on October 5, National Security Council staffers had drafted and circulated a statement of condolence for Trump to make, but he never did so.
On October 7, Johnson's remains were returned to Dover Air Force Base in Delaware. Trump was golfing, as he would four more times before the ambush came up again.  
On October 16, at an impromptu news conference with Trump's new best friend Mitch McConnell, a reporter asked about the ambush.  The president was neither solemn nor contemplative in responding and yet again couldn't resist trying to one-up his predecessors, this time by claiming he was calling the families of soldiers killed on his watch although Obama and Bush had not, a lie that was quickly debunked by Dempsey and numerous aides to those presidents. 
On October 17, Trump claimed he called "virtually all" Gold Star families, but of the 20 families that The Associated Press contacted, 10 said he had not, while the father of one soldier unhelpfully noted that Trump had promised to write him a $25,000 check and set up a fundraising organization in his son's memory, neither of which had happened.  Sanders then claimed the check had been sent although it had not.
Later on October 17, Trump finally called Myeshia Johnson, unaware that longtime family friend Wilson was riding with her.  Wilson later said that Johnson's family found Trump's comments offended more than consoled, while he blindsided Kelly by claiming that Obama had not called Kelly after his own son's death.   That apparently is true, although Obama later invited Kelly and his wife to meet with he and Michelle Obama at the White House.   
On October 18, Trump asserted that Wilson "totally fabricated" what she claimed he had said, and in a time-worn Trump tactic, said that he "had proof."  That proof was simply that other people were in the room, including Kelly, when Trump called. Johnson's family then corroborated Wilson's account, which Sanders denied and Trump again denied. 
On October 19, Kelly was told to explain the process of notifying a dead soldier's family, which he did at a press briefing in the context of his son with some apparent pain.  Kelly confirmed that Wilson's account was accurate but couldn't resist taking a cheap shot — disparaging her for what he claimed were self-serving remarks at an April 2015 dedication of a new FBI field office in Miami named in honor of two agents killed in a 1986 shootout that he happened to have attended.   
At the end of the briefing, Kelly inexplicably (or not) said he would take questions only from reporters who had a personal connection to a fallen soldier, followed by those who knew a Gold Star family, after bemoaning only minutes earlier how few Americans knew either.  In other words, he explicitly denied a majority of journalist the right to ask questions.
Trump piled on, calling Wilson "wacky" while former President Bush observed in a speech later in the day that seemed tailor-made for the moment, "We have seen our discourse degraded by casual cruelty.  Argument turns into animosity, disagreement escalates into dehumanization." 
On October 20, a Fort Lauderdale Sun-Sentinel video of Wilson's remarks at the building dedication surfaced.  It showed that Wilson had praised other public officials, including Republican Senator Marco Rubio and then-House Speaker John Boehner, for getting funding, and remembered the fallen agents while taking no credit herself.  Sanders soon declared that Kelly "absolutely" stood by his account of Wilson's speech despite the glaring discrepancies and said it was highly inappropriate for anyone to question a four-star general.  Examples quickly surfaced of Trump repeatedly doing just that. 
Meanwhile, stories in Roll Call and The Atlantic revealed that the White House was now frantically express mailing condolence letters after scrambling to get the names of Gold Star families from the Pentagon.  In one especially deplorable instance, Timothy Eckels Sr. hadn't heard anything from Trump since his son Timothy Jr. was killed after a collision involving the USS John S. McCain on August 21, but on October 20 received a UPS package dated October 18 with a condolence letter.  
On October 21, Trump tweeted that "I hope the Fake News Media keeps talking about Wacky Congresswoman Wilson in that she, as a representative, is killing the Democratic Party!" just hours before Johnson's family gathered for his burial.  Trump did not attend because he was playing golf.
On October 22, Wilson called Kelly "a puppet of the president" and said he should apologize for having made false claims about her. 
And on October 23, Myeshia Johnson broke her silence in a "Good Morning America" interview.  "He couldn't remember my husband's name," she said of Trump. "The only way he remembered my husband's name is because he had my husband's report in front of him and that's when he actually said 'La David.' I heard him stumbling on trying to remember my husband's name. And that's what hurt me the most. If my husband is out here fighting for our country, and he risked his life for our country, why can't you remember his name?" 
Trump disputed Johnson following the show, and in a tweet effectively called a Gold Star widow a liar, yet another new low in a bottom-feeding presidency.  "I had a very respectful conversation with the widow of Sgt. La David Johnson," he tweeted, "and spoke his name from beginning, without hesitation!"    
Myeshia Johnson and Frederica Wilson happen to be black, and the imbroglio predictably had racial as well as sexist undertones.  Trump, of course, reserves the "wacky" moniker for women; think Hillary Clinton, San Juan Mayor Carmen Yulín Cruz and Megyn Kelly, among others.   
Johnson, of course, was ungrateful — read uppity — while Kelly said Wilson was speaking "in the long tradition of empty barrels making the most noise" — again, read uppity — who had turned a solemn ceremony into a celebration of her ability to steer tax dollars to her district.  Alas for Kelly, Wilson was not even in Congress when the money for the new field office was appropriated.  Alas alas for Kelly, Wilson had started the Role Models of Excellence Project, an exemplary mentoring program for youth pursuing military careers like his own, among other fields.  Johnson and his brothers were alumni.
Kelly's circumspection as a Marine Corps commander, Trump's director of homeland security and then chief of staff has been admirable.  And like the two other generals now holding top jobs for Trump — Defense Secretary James Mattis and National Security Advisor H.R. McMaster — they are said to have continued service to their country by making sure than the erratic president didn't plunge the U.S. into a world war.  Or something.
Editor's Note: This essay originally appeared on October 23, 2017, on Kiko's House, a website featuring commentary by journalist and author, Shaun Mullen.  It was reproduced here with the consent of Mr. Mullen.