Bennett's initiative to entice Palestinians to work in Israel's high-tech sector will make it harder for the struggling Palestinian economy to stand on its own two feet.
Israeli Prime Minster Naftali Bennett may have brought about Benjamin Netanyahu's defeat and created Israel's most diverse government, but governing is more than electoral gymnastics. It comes down to policies, and Bennett is revealing himself as a polished Netanyahu: right-wing in direction, expansionist in desire and openly defending settler violence towards Palestinians.
The Palestinian economy is currently front of mind for Bennett, who has proposed "shrinking the conflict" under which Israel will take measures to assist its struggling economy while maintaining the military occupation; a new and improved form of Netanyahu's failed "economic peace".
Although this initiative has received wide media coverage, nearly all of it has ignored the fact that it recognises Israel as the chief controller of Palestinian economic planning and development, followed by acquiescent foreign state donors enabled by the US, with Palestinians a distant last in the pecking order of influence.
Within this power grid, one of the Israeli government's key focuses of the "economic peace" is the Palestinian technology sector.
One of the first Israeli cabinet decisions in November stated that "500 Palestinians will be able to receive permits to work in the high-tech industry in Israel in the next three years, […] according to Israeli media." ( JPOST)
These 500 new permits come on the heels of tens of thousands of work permits issued to Palestinian workers so they may enter Israel to benefit the Israeli economy, leaving Palestinian firms with a second and third-tier labour pool. Palestine's IT sector is just the most recent beneficiary of this Israeli "generosity".
Before the IT sector, a critical mass of construction, agriculture, and manufacturing workers were all enticed away from the Palestinian economy to serve Israeli economic interests, including the building of illegal settlements (such as in Gush Etzion, Atarot, Geshuri, Burkan, Mevo Horon, Mehola, and Muswa Al-Jathima) and creating settlement-based economic enterprises, including those of multinationals (such as German multinational HeidelbergCement and its subsidiary Hanson Israel, and General Mills Israel (Pillsbury), which is a subsidiary of the US multinational General Mills).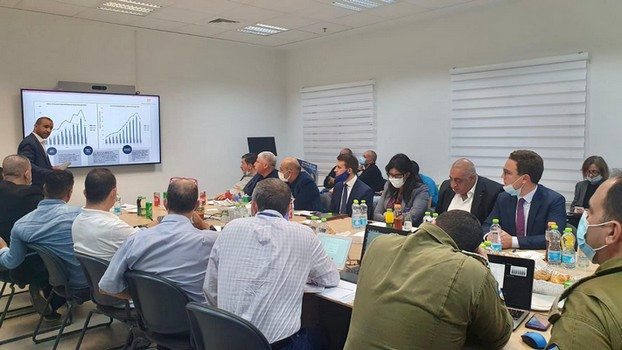 Estimates are that nearly 200,000 Palestinians enter Israel and Israeli settlements every day for work, with approximately 50,000 of those entering without permits, many under the nose of the Israeli military which chooses to turn a blind eye to the absence of official papers. With all these permits comes a black market for work permits, but that's a story for another day.
As the New York Times reported in September, after the Israeli Minister of Defence Benny Gantz met in Ramallah in a rare meeting with Palestinian President Abbas, Israel "increased by 15,000 the quota of Palestinian labourers allowed to work in Israel, where the minimum wage is about three times as high as it is in Palestinian communities".
Permits have not only been issued to Palestinian residents of the West Bank, but those issued to Palestinians living in Gaza are on the rise as well.
There is a long history to Israel's defining Palestine's economic development or de-development as the case may be. The defining factor of this policy is that Israel has mastered the ability to fragment Palestinian geography and effectively instil total population control.
Any Palestinian business currently engaging with Israeli firms is effectively risking its long-term sustainability in the name of short-term business.
This dual-prong policy-fragmentation and control-started with Israel's establishment in 1948, when all Palestinians who remained in what became Israel were placed under martial law until 1966. When Israel militarily occupied the West Bank, East Jerusalem, and Gaza Strip in 1967, it transferred this regime of martial law to these new territories.
With the signing of the Oslo Accords in 1993, Palestine's modern economy started to take shape, albeit tiny in size; this nascent economy set out to lay the foundation for a future Palestinian state, even though it lacked the full spectrum of governance in every single sector. The situation is now markedly worse than even during that lopsided period of the Oslo process.
Today, Palestine's economy is more than ever shaped by Israeli decision-making, and the most obvious example is the technology sector.
It is commonplace today to hear Palestinian firms contemplate the increasing challenge of retaining their IT staff.
Palestine's technology sector
With a youthful population and to bypass many of the Israeli-imposed physical barriers which restrict their movement and access, many Palestinians have turned to information technology for their livelihoods.
Given the depressed local Palestinian economy, the bulk of IT opportunities have come from outsourcing, many to Israeli firms, especially given the huge shortfall of IT specialists in Israel due to its flourishing high-tech sector. Avi Hasson, CEO of Start-Up Nation Central, a non-profit group that closely follows the Israeli tech ecosystem, said the sector is suffering " a chronic shortage of tens of thousands of employees ".
Although Palestine touts " 2,000 or so graduates who have specialized in computer and IT," it generates nowhere near the critical mass of STEM (science, technology, engineering, and mathematics) graduates that other countries produce ( think: China, 4.7m; India, 2.6m; and the US and Russia far behind with approx. 570K each).
Working with Palestinians has its advantages-geographic proximity to a global technology hub, multilingual, and well educated. In addition, many Palestinian IT business owners and senior managers were educated and trained in the US.
It is commonplace today to hear Palestinian firms contemplate the increasing challenge of retaining their IT staff. One bank lost its entire software development team to Israeli firms that offered these young professionals a monthly salary of $US5,000–6,000, instead of their current $US2,000, which has none of the perks that come with Israeli permits to enter Israel.
All of this and more makes Israeli employers see this captive (militarily occupied) community as a target to fill their labour shortage. The Israeli government views this opportunity as a double win. On the one hand, Israeli high-tech businesses can narrow their labour shortage gap by tapping into Palestinian expertise.
Israeli military authorities have started "marketing" their services directly to Palestinian IT professionals instead of encouraging business-to-business dealings.
On the other hand, the occupation can be entrenched even further by ensuring by design that the Palestinian economy, in all its sectors, remains structurally dependent on Israel and struggles to develop independently.
In case anyone doubts that this is a deliberate strategy, it should be noted that in recent years Israeli military authorities have started "marketing" their services, such as permits, directly to Palestinian IT professionals instead of encouraging business-to-business dealings.
In essence, this bypasses Palestinian IT firms, at least those that are willing to engage in such an outsourcing model, and hinders their ability to properly accumulate the expertise they need to one day enable them to do the bulk of their business directly with the global market, reducing their dependency on their Israeli occupier.
As a result, any Palestinian business currently engaging with Israeli firms is effectively risking its long-term sustainability in the name of short-term business.
Anyone thinking business was getting easier under a Bennett-Biden state of affairs should think again. As the indomitable Israeli journalist Amira Hass wrote this month, "Under orders from [Israel's] Minister of Public Security Omer Bar-Lev, police on Sunday banned a meeting of Palestinian business people at the Ambassador Hotel in Jerusalem.
The minister claimed the meeting was initiated, sponsored, and financed by the Palestinian Authority. The business folks had been invited to a meeting and dinner by Al-Quds Bank."
The reality of Naftali Bennett's "economic peace" is that Israel is pulling more economic threads from the fabric of Palestine's economy, as it unravels to the point of collapse. Palestine's economic story is not preordained to end in ruins.
Israel has proven time and again that the levers to Palestine's economic prosperity are firmly in its hands and only needs the political will to act upon them. I for one, have documented 101 actions, literally, the Israeli authorities could take to reduce the tension and without increasing security risks.
They can't do it alone; they need the help of all who see where the current trajectory is taking us.
Editor's Note: This essay originally appeared on December 31, 2021 on ePalestine, a website featuring commentary by Sam Bahour, as well as Medium. It was reproduced here with the consent of Mr. Bahour.
Image: Middle East Monitor